= stackable to full certification
AT*SQA Micro-Credentials - Usability Testing
---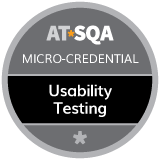 Usability Testing Micro-Credential
Usability and accessibility of software are important quality characteristics and may determine whether or not the software is successful. Usability testing is conducted to evaluate how well a system can be used by the target users to accomplish a specified goal. Accessibility testing, which is considered a subset of usability testing, is conducted to ensure that users of all abilities can successfully use the product. This micro-credential demonstrates that you have a base understanding of these highly important concepts.
---
Learn Usability Testing through AT*Learn Training
AT*SQA Usability Testing Body of Knowledge (Syllabus)
Usability Testing: What QA Teams Need to Know
Usability testing plays a vital role in ensuring user satisfaction and success in the field of product development and user experience design.
AT*SQA's free Usability Testing body of knowledge and optional AT*Learn training webinar give QA teams the basic knowledge about usability testing. Below are key points from the body of knowledge and webinar.
The Importance of Usability Testing:
Usability testing involves evaluating a product or service by testing it with representative users. Its primary goal is to identify usability issues and gather feedback to improve the user experience. Usability testing helps organizations understand user behaviors, preferences, and challenges, enabling them to make informed design decisions and create intuitive and user-friendly products.


Usability Testing Methodologies:
AT*SQA's body of knowledge and webinar explore various usability testing methodologies, including:
a. Moderated Usability Testing: In this approach, a moderator guides participants through specific tasks while observing their interactions and collecting feedback.
b. Unmoderated Remote Usability Testing: Participants independently perform tasks remotely while their interactions are recorded and analyzed for insights. c. Heuristic Evaluation: Experts evaluate a product against established usability principles or heuristics to identify potential issues.
d. Cognitive Walkthrough: Experts simulate users' thought processes and evaluate how easily users can achieve their goals.
e. A/B Testing: Two or more variations of a design are presented to users, and their preferences and performance are compared.


Key Elements of Usability Testing:
The ATSQA information also outlines the essential elements of usability testing, including:
a. Test Planning: Defining the objectives, target audience, tasks, and success criteria for the usability test. b. Test Design: Creating test scenarios and materials, such as prototypes or mock-ups, to be used during the test.
c. Participant Recruitment: Identifying and selecting representative users who match the target audience's characteristics.
d. Test Execution: Conducting the usability test, observing participants' interactions, and collecting qualitative and quantitative data.
e. Data Analysis: Analyzing the collected data to identify patterns, trends, and usability issues.
f. Reporting: Summarizing the findings and recommendations in a clear and actionable report.


Usability Testing Tools and Technologies:
The AT*SQA information further discusses various tools and technologies that facilitate usability testing, including:
a. Screen Recording Software: Allows researchers to record participants' interactions with the product for later analysis.
b. Eye Tracking Systems: Track and analyze participants' eye movements to understand their visual attention and behavior.
c. Surveys and Questionnaires: Gather participants' subjective feedback and opinions regarding their experience.
d. Usability Testing Platforms: Online platforms that provide tools and features for conducting remote usability tests.


Iterative Usability Testing:
Finally, the ATSQA body of knowledge and training emphasize the iterative nature of usability testing. It highlights the significance of conducting multiple rounds of testing throughout the product development lifecycle to identify and address usability issues progressively. Each iteration builds upon the insights gained from previous tests, ensuring continuous improvement and refinement of the user experience.
Usability testing is a critical process that enables organizations to create user-centric products and services. The ATSQA document offers valuable insights into usability testing methodologies, key elements, and tools. By incorporating usability testing into their product development workflows, organizations can enhance user satisfaction, improve product quality, and achieve their business goals in today's competitive digital landscape.
AT*SQA's free body of knowledge provides helpful insights into the different methods and benefits involved in usability testing. For those who prefer to watch a presentation on Usability Testing, AT*SQA also offers the $7.99 per month AT*Learn software testing training area.
After you have learned about usability testing, prove your knowledge with the Usability Testing micro-credential. Like all of AT*SQA's micro-credentials, upon passing, the micro-credential will appear on your profile in the Official U.S. List of Certified & Credentialed Software Testers™ and give you points toward your Testing Tiers® software tester ranking level.