Learn Software Testing
Learn how to test software with the materials and training courses below. Then get software testing jobs with ISTQB certifications and AT*SQA micro-credentials that make your resume stand out.
Free Software Testing Education Resources
Below, see our free AT*SQA and ISTQB sample exam questions & answers, syllabi and the software testing glossary of terms. Plus, see our free software QA education resources including software testing webinars, podcasts and white papers plus our software testing newsletters.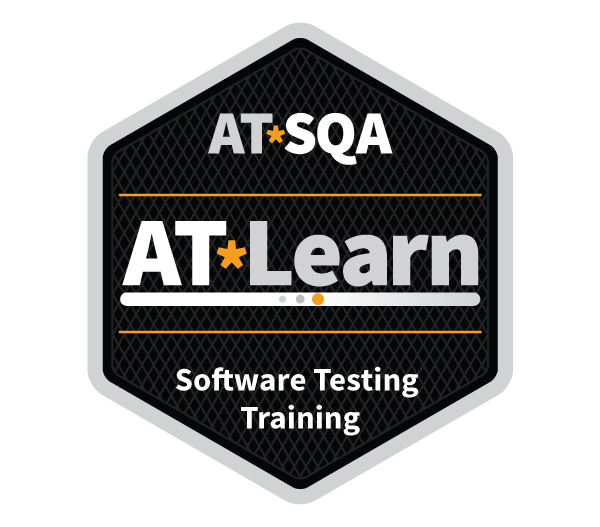 General Testing Knowledge - Basic Level
Foundation Level 4.0 Certification Syllabus (Body of Knowledge) [ISTQB]
Foundation Level 3.1 Certification Syllabus (Body of Knowledge) [ISTQB]
Testing Essentials Certification Syllabus (Body of Knowledge) [AT*SQA]
Specialist Testing Knowledge - Basic Level
Acceptance Testing Certification Syllabus (Body of Knowledge) [ISTQB]
Agile Testing Certification Syllabus (Body of Knowledge) [ISTQB]
AI Testing Certification Syllabus (Body of Knowledge) [ISTQB]
Automotive Software Testing Certification Syllabus (Body of Knowledge) [ISTQB]
Testing for IoT and Mobile Certification Syllabus (Body of Knowledge) [AT*SQA]
DevOps Testing Certification Syllabus (Body of Knowledge) [AT*SQA]
Game Testing Certification Syllabus (Body of Knowledge) [ISTQB]
Mobile Application Testing Certification Syllabus (Body of Knowledge) [ISTQB]
Mobile Testing Certification Syllabus (Body of Knowledge) [ASTQB]
Model-Based Testing Certification Syllabus (Body of Knowledge) [ISTQB]
Performance Testing Certification Syllabus (Body of Knowledge) [ISTQB]
Usability Testing Certification Syllabus (Body of Knowledge) [ISTQB]
Advanced Testing Knowledge - General and Specialist
Advanced Test Analyst Certification Syllabus (Body of Knowledge) [ISTQB]
Advanced Test Manager Certification Syllabus (Body of Knowledge) [ISTQB]
Advanced Technical Test Analyst Certification Syllabus (Body of Knowledge) [ISTQB]
Advanced Security Tester Certification Syllabus (Body of Knowledge) [ISTQB]
Advanced Test Automation Engineer Certification Syllabus (Body of Knowledge) [ISTQB]
Expert Testing Knowledge
Expert Test Management Certification Syllabus (Body of Knowledge) [ISTQB]
Foundation Level
Foundation Level 4.0 Certification Sample Exam [ISTQB]
Foundation Level 3.1 Certification Sample Exam 2 [ISTQB]
Foundation Level 3.1 Certification Sample Exam 1

[ISTQB]

Testing Essentials Certification Sample Exam [AT*SQA]
Specialist Testing Certifications
Acceptance Tester Certification Sample Exam [ISTQB]
Agile Tester Certification Sample Exam [ISTQB]
AI Testing Certification Sample Exam [ISTQB]
Automotive Software Tester Certification Sample Exam [ISTQB]
Testing for IoT and Mobile Certification Sample Exam [AT*SQA]
DevOps Testing Certification Sample Exam [AT*SQA]
Game Tester Certification Sample Exam [ISTQB]
Mobile Application Tester Certification Sample Exam [ISTQB]
Mobile Tester Certification Sample Exam (ASTQB)
Model-Based Tester Certification Sample Exam [ISTQB]
Performance Testing Certification Sample Exam 1 [ISTQB]
Performance Testing Certification Sample Exam 2 [ISTQB]
Advanced Level
Advanced Test Analyst Certification Sample Exam [ISTQB]
Advanced Test Manager Certification Sample Exam [ISTQB]
Advanced Technical Test Analyst Certification Sample Exam [ISTQB]
Advanced Security Tester Certification Sample Exam [ISTQB]
Advanced Test Automation Engineer Certification Sample Exam [ISTQB]
Expert Level
Expert Test Management Certification Sample Exam [ISTQB]
Online Glossary of Software Testing Terms
Glossary of Mobile Software Testing Terms
Glossary of Performance Testing Terms
Glossary of Software Testing Terms Release Notes Version 3.2
Glossary of Software Testing Terms Release Candidate Terms Version 3.2