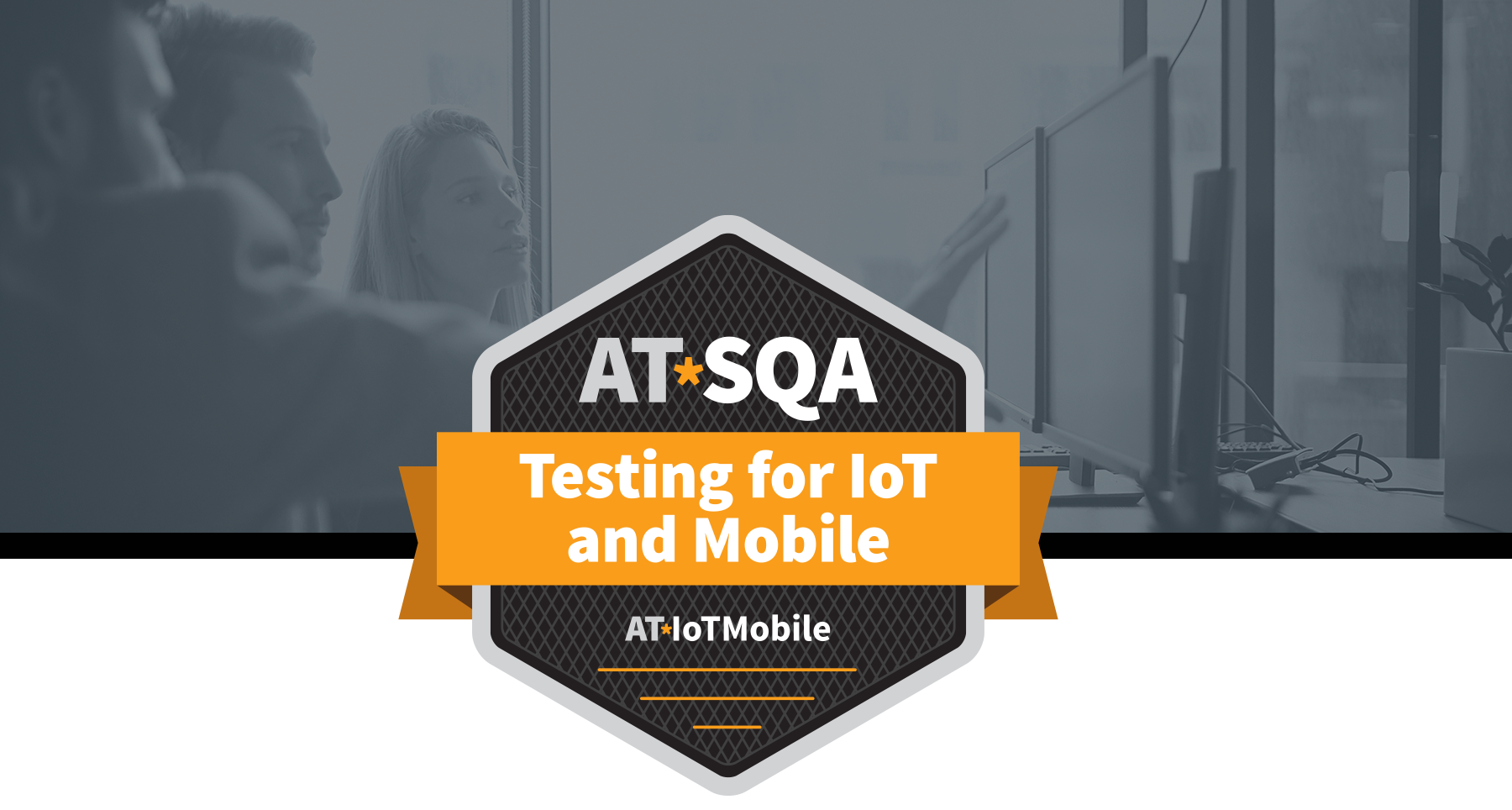 AT*SQA Connected Devices Testing certification puts you on the cutting edge of testing for mobile devices, mobile apps, connected devices, the Internet of Things (IoT) and more.
Why do you need certification in connected devices testing? Mobile and connected devices surround you. While your mobile phone is the most obvious connected device, there are dozens of connected devices that are part of your daily life, ranging from refrigerators to tiny humidity detectors to automobiles. Anything that is capable of supporting an Internet enabled component is part of the Internet of Things (IoT) and needs the quality assurance that comes with connected devices testing.
Learn why Connected Devices Testing is so important to your company and career: "Webinar: The Importance of Connected Devices Testing."
How Do I Prepare for the Connected Devices Testing Exam?
The resources above give you a strong start on preparing for the Connected Devices Testing Certification exam. There is no required training, and you may study on your own. Here is what other testers said after passing the exam:
"Exam was good and one has to go through the syllabus to crack it. I would give 5 out 5 to it (5 being the highest)."
"Exam was very straightforward and relevant to the syllabus."
"I am not normally a great test taker, as I am generally nervous going into exams. This exam and syllabus were designed well enough that I had very little anxiety going into it. Well done!"
Why Should I Get the Connected Devices Testing Certification?
The challenges of testing mobile and connected device are significant and growing:
Frequency of the release cycles: Because the mobile and connected device market is so competitive, organizations race to be first- to-market with new features and capabilities. Testing has to adapt to the demands of time-to-market while also meeting the expectations of the users regarding functionality, usability and performance.
Interoperability: Although invisible to most users, there is an expectation that applications will work across devices and that devices will work together. There is an expectation to be able to easily and automatically transfer data between devices, and to use the same applications from any device.
AT*SQA Connected Devices Testing certification is the perfect complement for your ISTQB and ASTQB software testing certifications. AT*SQA Connected Devices Testing certification:
Is important for everyone who works to create quality connected devices, mobile devices, mobile applications and software related to the Internet of Things (IoT). There is no prerequisite, so anyone that works with connected devices can take advantage of this certification - it's not just for full-time software testers.
Adds you to the Official U.S. List of Certified Testers™ used by American employers. (While it's not important to American employers, if you wish to also appear on the ISTQB SCR, you must pass one of the ISTQB certification exams offered by AT*SQA.)
Is designed to be ISO 17024 compliant for those requiring it, which includes many corporate, federal, state, non-profit and other organizations, via our flexible, no-hassle recertification that helps you and your team automatically stay up to date.
---
Who Needs AT*SQA Connected Devices Testing?
Everyone who participates in creating quality connected devices, mobile devices and applications, or IoT software should have AT*SQA Connected Devices Testing certification. The quality of connected device hardware and software is the responsibility of everyone who is part of the team, not just those with titles such as Software Tester or QA Analyst.
The roles include everyone who is involved in making the software and hardware before it reaches production, not just full-time testers, which includes:
Product managers
Business analysts
Product owners
Quality assurance testers
Software engineers
Agile teams
Usability consultants
Connected Devices testing requires diverse skillsets, perspectives, experiences and roles, and AT*SQA Connected Devices Testing certification is designed for all members of your team.
---
AT*SQA Connected Devices Testing Body of Knowledge
Below is an outline of the AT*ConnectedDevices body of knowledge..
Introduction to Testing Connected Devices
Introduction
What is a Connected Device
What is a Connected Device Application?
Expectations from Connected Device Users
Challenges for Testers
Necessary Skills
Equipment Requirements
Lifecycle Models 12
Test Planning and Design
Identify Functions and Attributes
Identify and Assess Risks
Determine Coverage Goals
Determine Test Approach
Identify Test Conditions and Set Scope
Regression Testing
Quality Characteristics for Connected Device Testing
Introduction
Functional Testing
Non-Functional Testing
Environments and Tools
Tools
Environments and Protocols
Specific Application-Based Environment Considerations
Real Devices, Simulators, Emulators and the Cloud
Performance Test Tools and Support
Test Automation
The Internet of Things
Introduction
The Nature of The Internet of Things
Risks and Benefits of the IoT.
IoT Implementations
IoT Protocols and Environments
Unique Testing Approaches and Techniques Needed for the IoT
The Role of Test Tools in the IoT
Future-Proofing
Expect Rapid Growth
Build for Change
Plan for the Future
Anticipating the Future
---
Exam Format: AT*SQA Connected Devices Testing
The exam consists of 40 questions. Test takers have 90 minutes to complete the exam. Note: If English is not your native language, you qualify for a time extension of 25%, so you will have 113 minutes in that case.
Register for the AT*SQA Connected Devices Certification Exam
---
Questions About AT*SQA Exams?
We're happy to assist with any of your questions. Start with our helpful FAQ and then contact us if you still need assistance.
Learn about flexible recertification options so you can demonstrate ongoing competency.
Don't miss the latest news on software testing certifications! Subscribe to the free AT*SQA email newsletter.